Where can I turn for peace?
Where is my solace
When other sources cease to make me whole?
When with a wounded heart, anger, or malice,
I draw myself apart,
Searching my soul?
Where, when my aching grows,
Where, when I languish,
Where, in my need to know, where can I run?
Where is the quiet hand to calm my anguish?
Who, who can understand?
He, only One.
He answers privately,
Reaches my reaching
In my Gethsemane, Savior and Friend.
Gentle the peace he finds for my beseeching.
Constant he is and kind,
Love without end.
Text: Emma Lou Thayne, b. 1924. © 1973 IRI
Music: Joleen G. Meredith, b. 1935. © 1973 IRI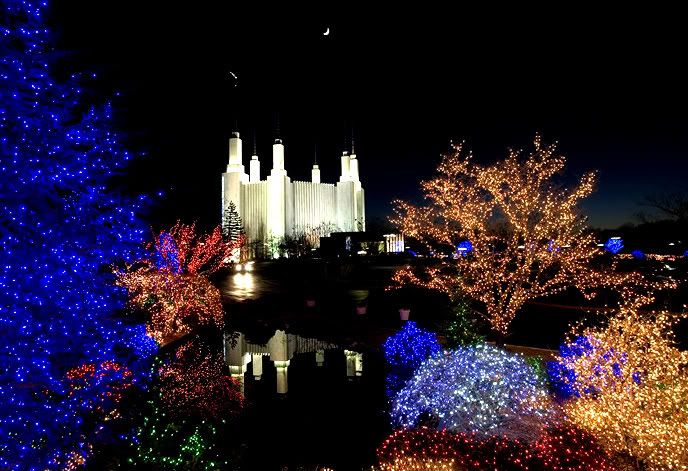 A short 2 minute video I took Christmas 2006 of the lighting of the LDS Temple in Washington D.C.
"The temple is a place of worship which brings us closer to God and teaches us how to strengthen our families."
"All of you in this great worldwide family who are joined together tonight, I extend to you my love and my blessing. I pray that the true spirit of Christmas will abide in the hearts of all. May the Christmas bells ring loud and clear for every one of you". ~President Gordon B. Hinkley